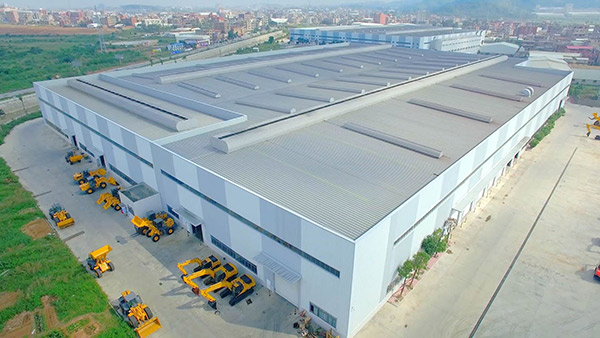 FUJIAN JINGONG MACHINERY CO., LTD. was founded in 1979.
Headquartered in Anhai Industrial Park, an important equipment manufacturing base of Jinjiang City, the company covers an area of over 500,000m2 and has a team of about 1,000 employees. JINGONG is a large-scale company specializing in the manufacturing of "JINGONG" brand JGM wheel loaders, telehandlers, hydraulic crawler and wheeled excavators and parts.
JINGONG is a leading telehandler manufacturer in China, a top 10 company in loader industry and a top 30 manufacturer in China's construction machinery industry. With over 100 first grade dealers and over 400 authorized service centers, JINGONG products have been distributed all over the country and have been exported to over 30 countries and areas in Southeast Asia, Middle East, Central Asia, Europe, Africa, Latin America, India and Russia. JINGONG has become a supplier for PLA since 2015.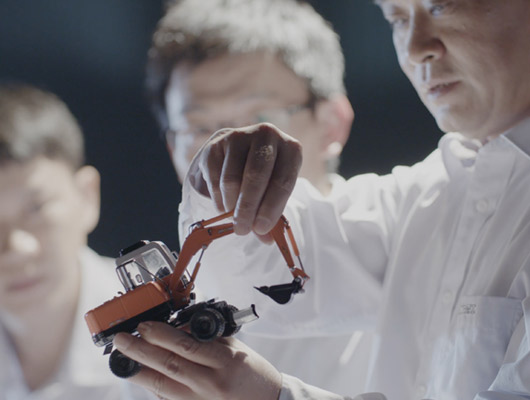 JINGONG has gained the certification of quality management system, environmental management system, occupational health and safety management system, the implementation system of the integration of informatization and industrialization, and the EU CE certification.
JINGONG adheres to differentiated product technology innovation strategy, focuses on independent research and development, and has cooperated with Changan University, Jilin University, Huaqiao University, Xiamen University, Fuzhou University, Chinese Academy of Sciences Quanzhou Equipment Manufacturing Research Institute, Tianjin Research Institute of Construction Machinery, Quanzhou Huazhong University of Science and Technology Intelligent Manufacturing Research Institute, etc.

JINGONG has undertaken multiple major science and technology projects of Fujian Province, Quanzhou City, and Jinjiang City.JINGONG products have won various prizes and awards, including "Second Prize of China Machinery Industry Science and Technology Award", "Top 10 Earthmoving Machinery Product of China", "Top 30 Construction Machinery Product of China", "First Innovation 100 Enterprise of Fujian Province", First, Second and Third prizes of "Science and Technology Progress Award of Fujian Province", Quanzhou City, and Jinjiang City, "Key Innovation Project of Fujian Province", "First Set of Equipment of Fujian Province", and "First Single Champion Product of Fujian Province", and has been recognized as Quanzhou "CNC First Generation" Demonstration Product Project. JINGONG's multiple technologies have been appraised as domestic leading technology level, among which, the telehandler product is a pioneer product both at home and abroad. At present, the company has 48 patented technology, and has participated in the formulation of 5 national standards of construction machinery industry.

JINGONG has won various honorary titles, including High-tech Enterprise of Fujian Province, Innovative Enterprise of Fujian Province, Science and Technology Enterprise of Fujian Province, Strategic Emerging Enterprise of Fujian Province, Leading Science and Technology Enterprise of Fujian Province, Pilot Service-oriented Manufacturing Enterprise of Fujian Province, Contract Observing Enterprise of Fujian Province, Advanced Enterprise in the National "Twelfth Five-Year Plan" Earthmoving Machinery Standardization Work, etc. The company's Technology Center has become the Enterprise Technology Center of Quanzhou City and Fujian Province, and has been recognized as the Earthmoving Machinery Enterprise Engineering Technology Research Center of Quanzhou City and Fujian province. In 2017, the company was awarded the May Day Labor Award of Fujian province.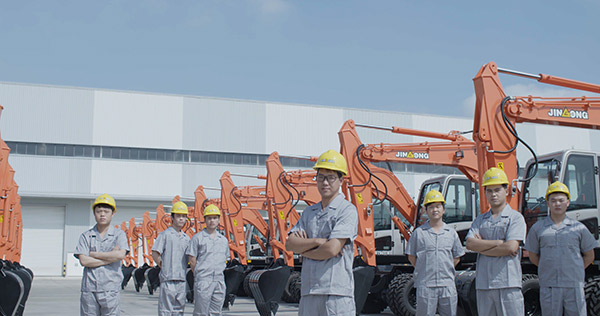 People oriented, win customer confidence by integrity, and win success by quality.
Since 2012, JINGONG has invested 350 million Yuan in the technological upgrading project for annual production of 10,000 loaders, telehandlers and 5,000 excavators, which was officially put into production in 2014. In early 2017, JINGONG Machinery Jiangsu Branch Company (covering an area of 425 mu) was officially open, thus the company is further improved in terms of its industrial layout, automation and intelligent level of production lines, technology level and comprehensive competitiveness of products.
During its rapid development, JINGONG also actively fulfills its social responsibility. Since 2001, the company has invested 450 million Yuan in building the largest private secondary school in Fujian province – Zijiang Secondary School. For years, the company has donated tens of millions Yuan for the society, and has been granted"Outstanding Contribution Award for Public Welfare"and "Outstanding Contribution Award for Haixi Construction"by Fujian Provincial People's Government.
JINGONG is making efforts to establish as a centenary company, with the management concept of "people-oriented, win customer confidence by integrity and win success by quality", the management principle of "technology innovation, industrial upgrade, management optimization and brand improvement", the core value of "Integrity, Team Work, Keep learning, Innovation, Hard working, Gratitude", and the tenet of "providing customers reliable high-quality construction machinery products and excellent services".